John Williams: News
Williams to score The Papers, not Ready Player One
In an exclusive for Variety, Jon Burlingame reports that Alan Silvestri will score Steven Spielberg's Ready Player One, while John Williams will score The Papers, as both films will be in post-production simultaneously.
John Williams on KUSC
On Tuesday, April 4, from 8:00 p.m. to 11:00 p.m. PDT, John Williams joins Jim Svjeda on the KUSC-FM Evening Program to discuss the new album John Williams–Steven Spielberg: The Ultimate Collection.
Boston Pops to record Williams albums
To celebrate John Williams' 85th birthday, the Boston Pops will dedicate their 2017 spring season to their esteemed conductor laureate. On April 7 and 8, 2017, prior to the official beginning of the Pops season, the orchestra and music director Keith Lockhart will record two pre-season concerts for a live album featuring selections from Williams' lesser-known scores (including The Towering Inferno and Goodbye, Mr. Chips). Williams himself returns to the Pops (sharing the podium with Lockhart) for Film Night concerts on May 31 and June 1. Lockhart will also conduct live-to-screen presentations of E.T. (May 12 & 13) and Jaws (May 25 & 26) as well as a full program of Williams selections (May 16 & 24).
Markings for Anne-Sophie Mutter
On Sunday, July 16, 2017, violinst Anne-Sophie Mutter will premiere Markings, for solo violin, string orchestra and hapr, a new work composed expressly for her by John Williams. Andris Nelsons, music director of the Boston Symphony, will conduct the BSO in a program that also features the Tchaikovsky violin concerto and Berlioz' Symphonie Fantastique. Tickets to this performance, as well as an open rehearsal the morning of July 15, go on sale January 23. Mutter has for some time been asking Williams to compose a work for her. "He wrote a beautiful violin concerto in the 1970s," she told The Wall Street Journal in 2015. "What he could bring to a new composition now is just tremendous."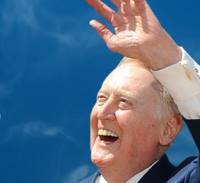 John Williams salutes Vin Scully
On Friday, September 23, John Williams will conduct musicians from the Los Angeles Philharmonic in a special arrangement of The Star-Spangled Banner during pre-game ceremonies at Dodger Stadium honoring retiring play-by-announcer Vin Scully.
Turner Classic Movie salutes John Williams
On Monday, September 12, Turner Classic Movies will salute John Williams with a rebroadcast of the AFI Lifetime Achievement ceremonies along with the 2011 AFI Master Class featuring Williams and Steven Spielberg. Also on tap are showings of Jaws (1975), The Sugarland Express (1974), The Cowboys (1972) and Goodbye, Mr. Chips (1969).
Williams conducts Force Awakens music at the Hollywood Bowl
On Labor Day weekend (Friday, Saturday and Sunday, September 2–4), John Williams made his annual appearance at the Hollywood Bowl, conducting the Los Angeles Philharmonic in selections from The Force Awakens and other films in the Star Wars saga — along with the West Coast premiere of his Suite from The BFG. On the first half of the program, conductor David Newman led the Philharmonic in other film music favorites, including Williams' theme from Sabrina.
Signature Edition scores on sale
A current sale on orchestral music and scores at online retailer Sheet Music Plus applies to all of the John Williams Signature Edition scores and orchestral parts, providing savings of 20% over list prices. This includes the newest addition, John Williams' Suite from The Force Awakens (Hal Leonard 4491706).
Guitarist Meng Su records Rounds and "Avner's Theme"
Guitarist Meng Su's first solo CD, Meng (Tonar Music TON-CD-MENG), features a recording of John Williams' 2012 work for solo guitar, Rounds, as well as a sonata by Mario Castelnuovo-Tedesco (with whom Williams studied composition during the 1950s) and works of J.S. Bach, Francisco Tárrega and William Walton. According to The Baltimore Sun, she "brings a particularly sensitive touch to a darkly beautiful theme from John Williams' Munich film score" ("Avner's Theme").